The places in Gothenburg that celebrated Riesling Week 2021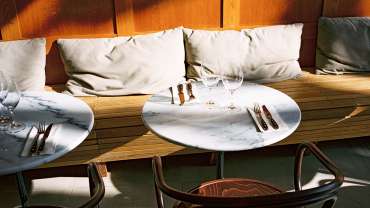 Riesling Week 2021 in Sweden was celebrated 7-20 June. Here are the venues in Gothenburg who joined the Riesling celebration! (Sponsored by Wines of Germany)
Phone: +46 31 18 18 58

Address: Södra Vägen 45, Göteborg

Project is the wine bar and restaurant that serves both set menus and a la carte and it has been rewarded with a star by Guide Michelin. The menu is internationally inspired.

Phone: +46 31 338 53 33

Address: Västra Hamngatan 24, Göteborg

Wolfgang vincafé has opened at Västra Hamngatan near Grönsakstorget in central Gothenburg. Here you can drop in for some classical dishes like Croque Monsieur or a shrimp sandwich. The ambiance is relaxed and friendly, although the locale is rather grand with large windows. In summer, the terrace is a good place to watch people stroll down the large sidewalk.

Phone: +46 31-20 86 90

Address: Berzeliigatan 18, Göteborg

Barrique is a city center wine bar and bistro, strategically located between the Avenue and the arenas Scandinavium and Ullevi. Value for money and accessible wines are the name of the game (they even announce their low markups on their site).

Phone: 031-61 90 60

Address: Drottningtorget 10, Göteborg

Phone: 031-318 66 00

Address: Södra Vägen 8A, Göteborg

Phone: +46 31-20 79 79

Address: Arkivgatan 7, Göteborg

Familjen (the family) is part of Björn Persson's little gastro group (Koka, Björns bar). This friendly bistro is located near the Avenue and in summer you will enjoy the large outdoor terrace. The wine list has some unique wines that the group imports.