Kungsholmen's killer wine lists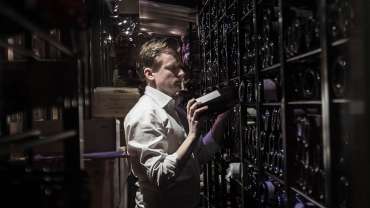 Kungsholmen may not be brimming with wine bars but the locals know that there are some serious wine lists on the island. Here are our favourites among the wine bars and wine restaurants on Kungsholmen.
AG

Phone: +46 8 410 681 00

Address: Kronobergsgatan 37, 112 33 Stockholm

For years, AG has been one of the best steak restaurants in Sweden. It also boasts a lively tapas bar and a wine list featuring 1000 wines with large chunks of Burgundy, Piedmont and California.

Agnes

Phone: +46 8 410 470 19

Address: Norra Agnegatan 43, 112 29 Stockholm

Restaurant Agnes has quickly become an established favourite among the wine and food lovers of the Kungsholmen neighbourhood. Its heart is in southern Europe with many Spanish specialities. The service staff is experienced and friendly and the wine list boasts over 200 wines with a preference for France, backed up by Italy, Spain and the US. The wines cover both the natural and classic worlds.

Stadshuskällaren

Phone: +46 8 586 218 30

Address: Stockholms Stadshus, Hantverkargatan 1, 111 52 Stockholm

Stockholm's beautiful City Hall is the place where the most famous dinner of them all is held every December 10: The Nobel Banquet. If you want to feel like a king or a Nobel laureate, just head to Stadshuskällaren where you can pre-order any Nobel Menu of your choice. Or enjoy an a la carte och fixed menu dinner. The wine list is classical with mature gems from Bordeaux and Burgundy.

W by Wijnjas

Phone: +46 8 13 14 20

Address: Scheelegatan 3, 112 23 Stockholm

Wijnjas classical wine cellar restaurant is related to the cheese store not far from it, and there is plenty of cheese connections on the menu. The Wijnjas wine list is large, varied and filled with excellent choices and deals.