3 great wine places in the Stockholm archipelago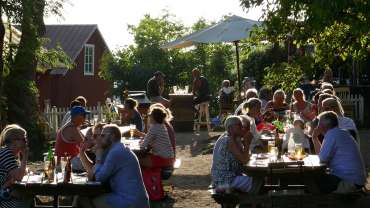 Salty rocks, green islands, plenty of boats and sunny afternoons. Could it possibly be better? Yes, of course – you also want to sip some good wine, don't you? And yes, there are a few top wine places to find. Here are the best wine gems in the Stockholm archipelago.
Phone: +46 739-384 562

Address: Gällnö Bar, Gällnöby

Red boathouses, a wooden bar, tables and chairs spread out on the lawn under the open sky, light summery food – and a wine list that makes every wine lover happy. Welcome to Gällnö Bar, arguably the best wine place in the Stockholm archipelago. The wine list offers a lot of wines from France, especially Loire, Jura and Burgundy. Also a lot of great Syrah from northern Rhône and producers like Franck Balthazar and Hervé Souhaut.

Phone: 08-542 468 00

Address: Ingmarsö byväg 2, Ingmarsö

​Ingmarsö Krog is an ambitious wine place in the archipelago, where owner and restaurateur Sandra Bloemer serves summery food on local and seasonal produce, like butter-poached cod or homemade sausage. ​The wine list has a focus on Europe in general and Bourgogne and Loire in particular, with producers like Dujac, Fournier and Bertheau. Also, hats off for a small but nice line-up of sweet wines.

Phone: 08-542 472 55

Address: SVARTSÖ ALSVIKS UDD 397, Skälvik

Svartsö Krog has become known as one of the best culinary experiences in the Stockholm archipelago. The food is ambitious and tasty, and it's usually pretty crowded, so it's a good idea to reserve a table, especially if you want to be seated outside. The wine list is varied and fun and includes both classic European stuff from Chablis, Piemonte and Penedès, as well as wines from the Czech Republic and Mexico.