3 great wine places in the Stockholm archipelago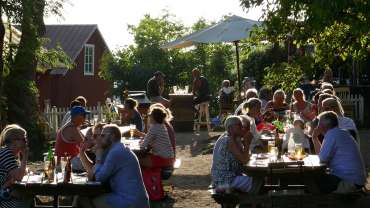 Salty rocks, green islands, plenty of boats and sunny afternoons. Could it possibly be better? Yes, of course – you also want to sip some good wine, don't you? And yes, there are a few top wine places to find. Here are the best wine gems in the Stockholm archipelago.
Phone: +46 739-384 562

Address: Gällnö Bar, Gällnöby

Gällnö Bar is one of the cosiest venues in the Stockholm archipelago. The food is rustic but tasty, and in the simple wooden bar, you can buy craft beer and order wine from a wine list that's short but well put-together. Don't miss the Syrah section.

Phone: 08-542 468 00

Address: Ingmarsö byväg 2, Ingmarsö

​Ingmarsö Krog is located just by the water, where you can watch boats pass by while eating well-cooked food and sipping great wine from a mostly European-focused wine list. Also, don't miss the pontoon, which is the perfect spot if you just want a cold beer in the sun.

Phone: 08-542 472 55

Address: SVARTSÖ ALSVIKS UDD 397, Skälvik

Tasty food, fun wine list, knowledgable staff, and usually pretty crowded. Svartsö Krog is indeed one of the archipelago's gems. Also, don't forget to try one of their cocktails.