32 great wine places in Berlin 2021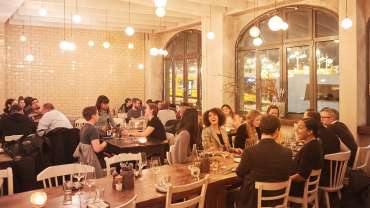 Berlin is huge and it's not easy to find the top wine spots. Our Berlin ambassador, sommelier Emmanuel "Manu" Rosier, has done the work for you.
Phone: +49 30 67302051

Address: Torstraße 167, Berlin

​Over the years, this former kebab stand in the heart of Berlin has developed into probably the smallest restaurant with a Michelin star in Germany. Since 2012, they are offering a relaxed, modern fine dining concept – in 2016 awarded with one star in the Michelin Guide and 16 points by Gault & Millau. The young and ambitious team serves only up to 18 guests at the time with their French-oriented cuisine, so please make sure to book in advance. The restaurant bears the name of a small harbour town in the south of France, named after the famous wine region Bandol in the south of Provence. Arti...

Phone: +49 30 81860757

Address: Okerstraße 2, Berlin

A small oasis of freshness in the heart of Neukölln – Barra is a lovely restaurant serving a very seasonal menu composed of small sharing dishes. The menu changes daily, due to the season and the quality of the produce; "If it smells or looks funny, don't cook it!" is the kitchen's simple philosophy. The restaurant is minimalist but refined, and you would not believe me if I told you that the place opened in November 2018. Please book in advance as it's quite often fully booked. Another benefit of this restaurant is that when you sit and dine at the bar, you have the feeling that you are right...

Phone: +49 30 27581215

Address: Große Hamburger Straße 32, Berlin

When Cordobar opened its doors in 2013, Berlin only had a couple of wine bars to offer. After five years of leading the way in the wine bar scene, Cordobar became Cordo – a restaurant. Same location, same atmosphere but a different concept. The restaurant has now left the sharing concept that it started with, and is instead offering a five-course and an eight-course menu, with a wine selection that is unique to Berlin.

Phone: +49 30 91496396

Address: Friedelstraße 47, Berlin

Special Jury Prize Germany, presented by Martha's 2021

​​Germany's first and only desserts restaurant, located in Berlin's trendy Neukölln neighbourhood, offers a modern culinary adventure unlike anything you've ever experienced: A dessert menu of seven courses with perfectly coordinated pairings. The team, led by pastry chef René Frank, relies on fresh, seasonal products of the highest quality. Artificial flavours, colours and additives are obvious taboos, and no refined sugar is used. Instead, the natural sweetness of vegetables and fruits play off a full spectrum of flavours: the saltiness of ingredients such as cheese and anchovies, the bitte...

Phone: +49 30 3242308

Address: Walter-Benjamin-Platz 4, Berlin

A couple of hundred metres away from Ku'damm (Kurfürstendamm) – "the Champs-Élysées of Berlin" – is Il Calice, located on a square, as if you were in Italy. Il Calice is your Italian specialist in Berlin, with great trattoria-style food and a mainly Italian wine list. Owner Antonio and his team have really managed to recreate a bit of Italy in their store, where some staff members speak both Italian and German, and some speak English.

Phone: +49 30 80492444

Address: Mittelstraße 1, Berlin

Austrian Wine List of the Year Germany, presented by Austrian wine 2021

Lead by two of the most prominent sommeliers in Berlin, Willi Schlögl (ex Petit Felix and Cordobar) and Johannes Schellhorn (ex Nobelhard & Schmutzig), Freundschaft (which means friendship in German) has become THE wine place in Berlin. Nestled in the student area of Berlin in Mitte, next to Unter den Linden, Freundschaft makes you feel right at home. Their bar looks like the long dining table where your family and friends would meet up around a glass or two or a bottle of wine, discussing the world. But for me, the main attraction is the large window facing the wine cellar! One more thing! T...

Phone: +49 30 88437750

Address: Kurfürstendamm 25, Berlin

Grace is the iconic restaurant of Hotel Zoo in the heart of Berlin West, right on the "Berlin Champs-Élysées" Kurfürstendamm. The restaurant reminds me of a London or New York City townhouse, with glamorous and eclectic interior design. This is the place to be for both local and international stars who want to be seen. After dinner, I strongly suggest you have a drink by the bar, or on the rooftop terrasse if it's summer. The food served has a strong Asian-Californian and European influence in a family-style concept.

Phone: +49 30 89064222

Address: Potsdamer Straße 58, Berlin

Short Wine List of the Year Germany 2021

​Golvet is a one-of-a-kind place in Berlin, located in one of the best venues in Berlin (an old and very famous nightclub). Golvet is a serious contradiction, fitting extremely well in Berlin – the food and service is neither casual nor fine dining; it is personal, it is regional yet European, classical French with an American dialect! The executive Chef Jonas Zörner took over from Björn Swanson in 2020. As our Scandinavian readers will realise, the name is very Swedish – just the name of the restaurant. Golvet means "the floor" – and it is situated on the 8th floor, overlooking Berlin's Tie...

Phone: +49 30 28879288

Address: Friedrichstraße 105b, Berlin

No matter if it's Leonardo DiCaprio, Scarlett Johansson, Samuel L. Jackson, Karl Lagerfeld or many of the top models – all of them have been seen here. The Grill Royal is currently THE celebrity restaurant in Berlin. With its entrance on the promenade by the Spree, below the Weidendammer Brücke, this comfortably cavernous restaurant is more reminiscent of London or Paris than Berlin. In the beginning, it was full of local celebrities but has now settled into a lively eatery for a well-heeled, colourful crowd. A favourite destination for the art scene in particular, locals and tourists come to...

Phone: +49 30 61289992

Address: Paul-Lincke-Ufer 44a, Berlin

Austrian Wine List of the Year Germany, presented by Austrian wine 2021

A wonderful place nestled by the busy Kreuzberg canal. Sebastian Frank, named Best Chef in Europe 2018, has a very unique approach to his kitchen: He is Austrian and is cooking with his childhood memories! He and his team take on traditional Austrian recipes – he goes as far back as the Austro-Hungarian Empire – and brings those memories to the modern age. For Sebastian, vegetables are equal to meat and fish but be aware; this is not a vegetarian restaurant!

Phone: +49 30 23000555

Address: Potsdamer Straße 102, Berlin

Between old and new, East and West, shabby and chic (this is Berlin!), Irma la Douce is the pure enjoyment of French-inspired cuisine. Located on Potsdamer Straße, a Berlin institution with a lot of history, the whole world collides here: Art galleries and designer boutiques exist alongside huge Turkish supermarkets and upscale restaurants. After all, Potsdamer Straße, with its many facets, has been an old Berlin centre for entertainment and nightlife for decades. This place is all about 'joie de vivre' and enjoyment, with French roots (I should know this, me being French after all). Irma la...

Phone: +49 30 80938191

Address: Eberswalder Straße 35, Berlin

​This is the story of a Korean opera singer who loves to cook and eat, and a Spanish chef. When they met, it was love at first sight. This rather wild-sounding mixture of Korean-Spanish fusion-cuisine is based on the most natural, understandable foundation: Love! The small restaurant Kochu Karu in Prenzlauer Berg has been growing and thriving since 2012 and has been awarded Bib Gourmand from the Michelin Guide the last five years. Bini and Jose warmly welcome curious guests from all over the world to their trans-cultural, delicious creations through sound knowledge, but without an attitude. S...

Phone: +49 30 983208430

Address: Bergstraße 22, Berlin

​When you go to Katz Orange, you will find a place that feels like home. Each room reminds you of someone's living room, combining an eye for details with a sense for the essential. Katz Orange's concept is merging sustainability and gastronomy. Indeed, the restaurant follows a holistic approach: "With all our actions, we focus on humanity and mindfulness, we respect nature's rhythms and use its resources carefully. We know where our produce is being sourced and get inspired by what surrounds us. And we are always aware that it needs good people to do extraordinary things" says the owner of th...

Phone: +49 30 65214507

Address: Lausitzer Straße 25, Berlin

Lode & Stijn is the brainchild of two Dutch chefs and friends – Lode van Zuylen and Remi Stijn. They opened their restaurant in Kreuzberg in April 2016, and have managed to turn an old pink-walled coffee place into a sophisticated and pleasant restaurant. Here you will be guided through a five-course dinner with perfect wine pairings. Also, Lode is probably one of the best bakers I have ever known; The sourdough bread you'll get to start off the meal definitely sets the tone for your evening.

Phone: +49 30 31800712

Address: Stuttgarter Platz 18, Berlin

After a busy day in the heart of Berlin and along Ku'Damm, Brasserie Lamazere at Stuttgarterplatz is an excellent change pace. Regis Lamazere is a true gastronome; with Berliner heart and Parisian blood, he will immerse you in his light-hearted French world. Brasserie Lamazere has a rustic charm and offers a selection of traditional French dishes with a touch of TLC. Just as in Paris, you can take a seat outside and enjoy people watching while sipping a glass of wine or two.

Phone: +49 30 96597617

Address: Langenscheidtstraße 6A, Berlin

Epicerie and cave à vin La Cantine d'Augusta is a wonderful hidden gem in Schöneberg, right in the middle of Berlin. Owner Sebastien Gorius has carefully selected some of the best cheeses from France (from Bernard Mure-Ravaud, former World Champion in Cheese – that matters a lot to a French guy like me!) and a wide range of, of course, French wine. In this place, you will feel right at home. The name Augusta comes from Sebastien's grandmother, who was the one that made him fall in love with the simplicity of life; cheese, wine and friends.

Phone: +49 30 29778590

Address: Warschauer Straße 39, Berlin

Short Wine List of the Year Germany 2021

Michelberger Restaurant is located in Michelberger Hotel, located on the very busy Warschauer Straße – two minutes away from East Side Gallery, where you can admire the few metres left of the infamous Berlin Wall. The kitchen team focuses on serving food from the neighbouring states of Berlin – Brandenburg and Mecklenburg-Vorpommern – in a very organic and modern way. What is also great is that they have their own farm. The restaurant itself is very minimalist, well lit and overlooking Warschauer Straße.

Phone: +49 30 28877788

Address: Oranienburger Straße 32, Berlin

Short Wine List of the Year Germany 2021

"NO boundaries, NO limits, NO name" - this is the motto under the leadership of the new chef Vicenzo Broszio, former Chef at Einsunternull. And the guests are treated to "Fun Dining". After being the home of Café Orange for 27 years, the old-school classics have now been replaced by something extraordinary. Parts of the walls are covered by floor-length white translucent curtains that create a new time-deprived space within the historical walls. Towards the back of the dining room, a photorealistic drawing of a woman dangles from the ceiling, artfully tied up with knotted rope. Detail-loving b...

Phone: +49 30 25940610

Address: Friedrichstraße 218, Berlin

Grand Prix Germany, presented by Austrian Wine 2021

All this restaurant's produces come from the area of Berlin and its neighbouring regions; If it does not grow around here, it won't be on your plate. That is the simple philosophy for this venue, one of the best addresses in Berlin. You will either have a seat at the long table by the kitchen or, if you're a group, at your own long table with the host himself. Once inside, you will forget that you are indeed a few steps away from Checkpoint Charlie. Please reserve your seat well in advance!

Phone: +49 30 54861070

Address: Oranienplatz 14, Berlin

Ora Wine Bar & Restaurant is located on Oranienplatz in the heart of Kreuzberg, Berlin. The space used to be a pharmacy from the 1860's, Oranien Apotheke, and you can still see the lettering on the facade. In May 2020, after the first german lockdown, Ora launched a project that has become one of Berlin's most exciting dining experiences. The menu is changing daily and is always created from freshly produce that is traceable. It is a minimalist cuisine, café-style with flair, unpretentious and thoroughly contemporary European. The décor includes a green leather couch and bottles from the old p...

Address: Dresdener Straße 124, Berlin

Kreuzberg is one of the most renowned districts in Berlin – for its eclectic people, food markets, First of May-celebrations – and is a must-go for anyone wanting to discover Berlin. Right in the middle of Kreuzberg, you'll find Ottorink Weinbar, looking more like an old pharmacy – though it is full of bottles that were drunk in the bar, rather than medicine bottles. Otto, ex-Chancellor of Germany, is the name of the boss Andreas' grandfather, and Andreas named the wine bar Otto as a tribute. Ottorink Weinbar isn't like any other place you will visit in Berlin. Andreas has combined his two big...

Phone: +49 30 337775402

Address: Potsdamer Platz 3, Berlin

If you need an invitation to eat at the Ritz Carlton on Potsdamer Platz – here you have it! The restaurant offers inspired German dishes with a contemporary twist. This is what Berlin calls modern dining!

Phone: +49 30 54710861

Address: Fritschestraße 48, Berlin

By the Glass Wine List of the Year Germany 2021

Raised in Tel Aviv, Gal Ben Moshe has been familiar with the flavours of the Levant since childhood. Inspired by an Islamic scholar friend of hers, Gal also explored the lost traditions of medieval cuisine in these regions. But Prism draws its inspiration not only from the Levant or from the extended Middle Eastern region, but also​ Central European and Scandinavian cuisine when it leads to meaningful culinary contexts. The reconciliation of strong spice in contrast with harmonious tastes, and sometimes palatable flavours, is one thing that makes Prism unique in Berlin. For Gal, reinventing M...

Phone: +49 30 20454118

Address: Charlottenstraße, Berlin

Anja Schröder and her business partner managed to create, in the centre of Berlin, a real Wonder Emporium for wine lovers (Remember Dr Magorium!?). Located in the side of the Hilton Hotel, the wine shop offers up to 500 different wines from young to old, classics and international rarities. This place is pure magic, with metallic shelves looking like the ones from an old English library and with a beautiful tasting room upstairs.

Phone: +49 30 983208435

Address: Potsdamer Straße 91, Berlin

The favourite book of the owner's daughter is "The trip to Panama" by Janosch, a children's book reciting the trip of a small tiger and a small bear. Along the way, not only do they discover many different places and get to know themselves better, but they realise that there is nothing better than home. Panama is the interpretation of this book in culinary arts and drinks – you will have your desire of exoticism​ realized while still feeling at home!

Phone: +49 30 5544447053

Address: Steinplatz 4, Berlin

Hotel am Steinplatz is part of the Marriott Group's Autograph Collection, and the restaurant offers a 1920's interior with a 21st-century taste. The menu will take you on a culinary trip around Germany with occasional stops in other countries.

Restaurant am Steinplatz is temporarily closed.

Phone: +49 30 27593090

Address: Torstraße 48, Berlin

Remi is the new restaurant by the friends' Lode van Zuylen and Stijn Remi, located on the glazed ground floor of the Suhrkamp publishing house. With Torstrasse on the left and Rosa-Luxemburg-Platz, the restaurant has a view of the TV tower. The space is open, bright and minimalist, inspired by the grand cafés of the Netherlands, especially Hertogenbosch, where the two friends are from. There are no chandeliers, white napkins, stucco or velvet in the restaurant. Instead, you will find an open kitchen in the centre, exposed concrete, deep red granite, airy curtains and lots of perforated metal...

Phone: +49 30 24628760

Address: Chausseestraße 8, Berlin

Rutz is really an institution in Berlin. It was founded in 2001 and is still alive and kicking, which is a statement in itself! Lasting that long in the cruel world of gastronomy and still being in the foreground of the industry is remarkable. As you enter Rutz, you will find yourself in their wine bar. Here in this cosy ambience, you can order small sharing dishes to go with a glass of wine, or a bottle. If you feel adventurous, take the onyx stairs to their three Michelin star restaurant where your culinary trip can carry on!

Phone: +49 30 48625614

Address: Templiner Straße 7, Berlin

​Standard has set themselves an ambitious goal: They want to make Neapolitan pizza that tastes just as good as in the home of the pizza – in Naples itself. To achieve this, they have pursued one goal from the very first moment of planning: Authentic quality, real ingredients, traditional production methods – and no compromises. Everything that is baked in their Neapolitan dome oven has been cut by hand. Even the tomatoes are crushed by hand to create their yummy sauce. Just like in Naples, and just like in Campania, the kitchen will close when they run out of pizza dough. This is an extremely...

Phone: +49 30 41956687

Address: Fichtestraße 24, Berlin

​In 2015, Head Chef Maximilian Strohe and his language-loving partner Ilona Scholl took over this venue, that used to house a classic French bistro, and spiced things up a few steps. When you walk through the door, you're greeted by Ilona Scholl and her all-female service team, dressed to match the leafy pattern on the wall behind them. A nice touch, and so is your name charcoaled on the plain wood of your table and printed out on your menu. It's a sparse but cosy space, rustic wood and old tiles oozing bygone Alpine holidays. In many ways, what has become Tulus Lotrek's visual signature epi...

Phone: +49 30 25937930

Address: Rudi-Dutschke-Straße 26, Berlin

Restaurant Tim Raue has set the bar very high in culinary Berlin. This two-Michelin star restaurant has been amongst the best in the world since it opened in 2010 and still seek for excellence on a daily basis. The Asian-inspired cuisine mixes Thai aromas, Japanese art and Chinese multi-cultured philosophy. What's also remarkable is that the entire menu is lactose-free and that those who are vegan can enjoy a whole menu free of animal products! By the way, did you know that Tim Raue is the only German Chef featured in the Netflix series "Chef's Table"?

Phone: +49 30 8838174

Address: Grolmanstraße 44-45, Berlin

Viniculture has become an institution in the wine world of Berlin. Owner Holger Schwarz had this vision a long time ago to sell low intervention wines in Berlin (and now all of Germany). Holger had a good flair... The natural and low intervention wine market has exploded in the last few years, and Berlin should thank Holger, among other people, for it. He is a true visionary, and you will see his wines on the best wine lists in town too.