10 great wine bars and restaurants in Montreal 2021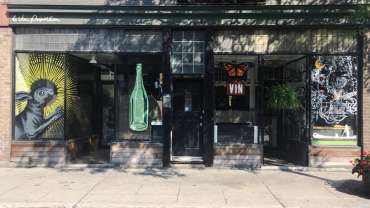 Star Wine List's Montreal ambassador Marie Pâris has put together the insider's wine guide to Montreal/Quebec. These are the wine spots not to be missed!
Phone: (514) 303-3822

Address: 1234 Avenue du Mont-Royal Est, Montréal

Co-owners Alain Rochard, who used to own restaurant Continental, and Laurent Farre also own French vineyard Le Loup Blanc and importing agency Planvin. Rouge-Gorge is usually crowded and a bit noisy, but always joyful. In the summertime, the large windows are often open, which makes you feel as if you were seated outside. The food menu is short but tasty, with mostly tapas-style plates and cheese or charcuterie assortments to go with the wines. The best place to be seated is by the bar where you can chat with the sommeliers.

Phone: (514) 288-7779

Address: 3424 Avenue du Parc, Montréal

This chic and elegant wine bar is owned by Catherine Bélanger, also co-owner of Estrie vineyard Pinard & Filles. Pullman is built on three stories, each one with its own atmosphere. The menu offers tapas-style dishes to share and match with a bottle or two. Pullman's geographic situation, on the way to the downtown area, makes it the perfect bar for an after-work drink or before a show. By the way, don't forget to take a look at the huge glass chandelier made of wine glasses that hangs at the entrance!

Phone: (514) 439-6494

Address: 2519 Rue Notre-Dame Ouest, Montréal

This friendly wine bar belongs to the same owners that also run the famous restaurant Joe Beef. The room only seats 30 clients, but the nice backyard terrasse can welcome some more in the summer. The interior design is simple, with old brick walls and bistro tables. The food menu is short and written on a chalkboard, and it offers small dishes of fresh market cuisine where vegetables are starring, cooked creatively. Kitchen is open late, and with its intimate atmosphere, Vin Papillon is the perfect place for a date. No booking possible, so you better arrive early.

Phone: (514) 750-6577

Address: 4869 Avenue du Parc, Montréal

This is the typical nice and unpretentious bar where you go with your friends. Buvette chez Simone is very young and hipster, as is the Mile-End, the neighbourhood where it is set. Design is vintage, with high diner chairs and small wooden bistro tables. Hungry? If so, you can order homemade charcuteries or cheese plates, as well as small dishes with fish or meat. Simple as can be. It is the perfect place to end a night out, with the long central bar and common tables that add a festive touch. Friendly service.

Phone: +1 514 270-6396

Address: 199 Rue Jean-Talon, Montréal

Alep is a renowned place in Montreal and has been for about 30 years, and over the years, it has become an institution. The next-door bistro Le Petit Alep shares the same kitchen and wine list – the only difference is the atmosphere, where the latter is more relaxed and without the white tablecloths. Alep offers traditional Armenian cuisine, and the dishes are made from family recipes. Food is excellent and tasty, and not expensive at all - which is a good excuse to take one more bottle!

Phone: (514) 845-5333

Address: 3927 Rue Saint-Denis, Montréal

This is a timeless classic. L'Express is forty-ish-year-old – an achievement for a Montreal restaurant – and a local institution. Almost nothing has changed inside over the years. The same thing for the people; clients here are mainly regular patrons. The atmosphere and design remind you of typical French bistros (grumpy service included). The menu offers classic brasserie dishes and the kitchen stays open late, which attracts a lot of artists and other night owls. A place where you can share both bottles and stories.

Phone: (514) 521-6789

Address: 1453 Avenue du Mont-Royal Est, Montréal

In a city where venues open and close at an alarming rate,​ it's a feat to stay open 10 years, like Chez Victoire at Avenue du Mont-Royal. The restaurant has a large central table for groups and smaller tables to the side. The chef serves an elegant and creative cuisine, following the seasons. A Sunday night special is particularly good value.

Phone: +1 514 543-1363

Address: 1231 Avenue Lajoie, Outremont

This little restaurant in Outremont, far from the touristic areas, is a hidden gem. The ambiance is festive and the two owners, chef and sommelier, work hand in hand to create food and wine pairings. The result is delicious, and a special mention has to go to the house-made pasta and seafood. The chef may be Mexican but the influence is Mediterranean. Restaurant opens at noon on the weekends. Be sure to reserve a table in advance.

Address: 1290 Rue Beaubien Est, Montréal

This trendy newcomer sells wine from vineyards that are usually harder to find in other places. The wine list is short but dynamic, and among the numerous Austrian and German bottles you'll find some great Quebec wines, all put forward and available by the glass.