Grand Prix wine lists in the International Final 2021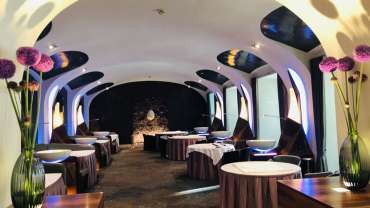 Here is the guide to the best wine bars and wine restaurants around the world with best wine lists overall. These venues were all Grand Prix finalists in Star Wine List of the Year International 2021 – check out all the venues and the winning wine lists!
In partnership with Austrian Wine

The Austrian Wine Marketing Board is based in Vienna, and is a national service body for the Austrian wine industry. The aim is to strategically support, coordinate and maintain quality and sales.

Read more about Austrian Wine

Phone: +43 1 518180

Address: Coburgbastei 4, Wien

Grand Prix Austria 2021

The two Michelin star fine-dining restaurant Silvio Nickol is located in the luxury Hotel Palais Coburg. The food is excellent, and the wine cellar is outstanding. And if you don't know what to choose from all the great bottles on the wine list – trust the pairings of Thomas Juranitsch, Head Sommelier of Silvio​ Nickol.

Phone: +46 8 506 400 84

Address: Lilla Nygatan 5, Stockholm

International Grand Prix, presented by Austrian wine 2021

Djuret (The animal), one of the restaurants in the main gastronomic block in Old Town, is always evolving and it is therefore a good idea to check their website to see what the kitchen is up to at the moment. Whatever it is, it will be tasty and comfortable. At the bar the menu is a la carte and specials often including great wine deals.

Phone: +31 10 268 7010

Address: Gelderseplein 49, Rotterdam

Austrian Wine List of the Year Netherlands, presented by Austrian Wine 2021

Unarguably amongst the three best wine restaurants in The Netherlands is the contemporary Michelin-starred restaurant Fitzgerald in the centre of Rotterdam next to the famous Rotterdam foodcourt (markthal) and cubic houses. This well-designed restaurant is a combination of a classy-chique and comfortable warmth. Owner and host Danny Gonzalez, who has been named host of the year by GaultMillau, is a true wine fanatic. No matter who you are, he always finds the perfect wine for you in every style or pricerange. Fitzgerald is on the one hand a great place for business meals for those who want to...

Phone: +45 69 96 00 20

Address: 8, Per Henrik Lings Allé 4, København Ø

International Austrian Wine List of the Year, presented by Austrian wine 2021

Geranium is the only three-star Michelin restaurant in Denmark and with Chef Rasmus Kofoed in the kitchen, you are set for an experience. Rasmus Kofoed is the only chef in the world who has received bronze, silver and gold at Bocuse D'Or. The restaurant is situated on the 8th floor in Fælledparken (Common Gardens) in the center of Copenhagen.

Phone: +49 6723 640

Address: Rheinallee, Eltville am Rhein

Grand Prix Germany, presented by Austrian Wine 2021

Kronenschlössen is located only a few meters away from the banks of Rhine in Hattenhei. Only a 30 minutes drive from Frankfurt takes you right to the middle of one of the most historical wine regions in the world. There couldn't be a better way to start your Rheingau culinary journey. Kronenschlösschen is a meeting point for gourmets and culinary enjoyment is the top priority in both the bistro and the gourmet restaurant. In 2014, the team at Kronenschlösschen founded the Rheingau Gourmet and Wine Festival, gathering the best local and international chefs alongside local winegrowers. The f...

Phone: +44 20 3141 6016

Address: 16 Cavendish Square, London

Grand Prix UK, presented by Austrian Wine 2021

Les 110 de Taillevent in London is an embassy of the classic Paris restaurant Le Taillevent and its sibling Les 110 de Taillevent in Paris. Located by Cavendish Square just a short walk from Oxford Street, this gorgeous brasserie has a relaxed but high-end approach to wine. As for the name "Les 110 de Taillevent", the 110 refers to the numbers of wines available by the glass, in either 70ml or 125ml. To go with the 110 wines (or many more by the bottle), you'll find 30 a la carte dishes.

Phone: +49 30 25940610

Address: Friedrichstraße 218, Berlin

Grand Prix Germany, presented by Austrian Wine 2021

All this restaurant's produces come from the area of Berlin and its neighbouring regions; If it does not grow around here, it won't be on your plate. That is the simple philosophy for this venue, one of the best addresses in Berlin. You will either have a seat at the long table by the kitchen or, if you're a group, at your own long table with the host himself. Once inside, you will forget that you are indeed a few steps away from Checkpoint Charlie. Please reserve your seat well in advance!

Phone: +44 20 7242 8963

Address: 51 Lamb's Conduit St, London

Grand Prix UK, presented by Austrian Wine 2021

Noble Rot opened their doors in late 2015 and immediately hit their stride as a not-to-miss wine venue in London. Located in Bloomsbury on the quaintly historic Lamb's Conduit Street, it's Parisian inspired and feels as if it's been there forever. The wine bar at the front is light and comfortable, with prize tables in the double fronted bay windows, a roaring fire in the colder months and walls adorned with the very cool front covers of their eponymous wine magazine. The restaurant at the back is cosy and inviting. The food is classic Franglais bistro fare – ideal for wine. To be honest,...

Phone: +47 56 53 10 00

Address: Uttrågata 3, Voss

International Grand Prix, presented by Austrian wine 2021

Park Hotel Vossevangen is not a place visited for its convenient access – it is a place worth traveling for. Located in a village in the Western part of Norway, at least the road trip from Bergen can be spectacular. At Park Hotel Vossevangen it is possible to attend tastings in the wine cellar or try their restaurant Elysée which offers a classic menu.

Phone: +853 8803 7878

Address: 南灣葡京路新葡京酒店43樓

International Grand Prix, presented by Austrian wine 2021

When you take the elevator up to the 41st floor of Grand Lisboa Hotel and step out, you can immediately see the 19th century Steinway Grand Piano with this stunning Austrian crystal chandelier above. The cuisine is traditional French, and besides signature dishes like foie gras with roasted guinea fowl or the Kagoshima​ beef, there are also many other highlights such as the bread, cheese and dessert trolley.

Phone: +358 9 61285300

Address: Eteläesplanadi 14, Helsinki

International Grand Prix, presented by Austrian wine 2021

​This legendary establishment in Helsinki opened in 1937 and is considered to be one of the top-notch restaurants in Helsinki. The restaurant is located on the 8th floor in the middle of Helsinki, where you can enjoy the beautiful view of the town while eating one of Savoys's classical dishes or a more modern version of what the kitchen has to offer. Savoy is truly a piece of culinary history where you can enjoy both high-end food, and a wide range of wines above the rooftops of Helsinki.

Phone: +41 41 888 74 88

Address: Gotthardstrasse 4, Andermatt

Grand Prix Switzerland, presented by Austrian Wine 2021

The Restaurant at The Chedi Andermatt was the winner of Grand Prix in Star Wine List of the Year Switzerland 2021. "This list has the best sake selection in all of Europe. But of course, in this category we're looking for a list that covers all the aspects – width, depth, originality, vintages and value – and this one delivers on every aspect. If you love classics like Champagne, Bordeaux, Burgundy, Italy, Spain and Portugal, you can find it all, but it also has some more trendy, up and coming, countries like Hungary, Slovenia and Greece. A very complete list," jury member Raimonds Tomsons sa...