The best wine lists in Åre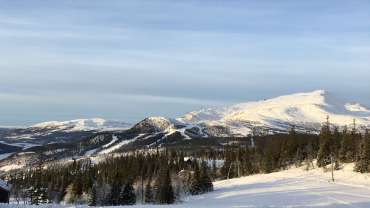 Åre is of course the alpine resort par excellence in Sweden but you can find things to do year-round, including eating well and drinking great wines. We have put together a list of our favourite wine lists, wine bars and wine restaurants in Åre for you. Listing over 1300 wines in total, they should keep you occupied for an after-ski or two. If you are a fan of Italian wines and Piedmont wines in particular, you've come to the right place. Rapper and wine lover Petter has put together a personal wine list of serious Piedmont wines at hotel Granen. And at Vinbaren Åre you will find a serious selection of Italian wines as well. In fact, the wine lists in Åre have a much higher percentage of Italian wines than Stockholm. Salute!
Villa Tottebo

Phone: +46 647 506 20

Address: Parkvägen 1, 837 52 Åre

Villa Tottebo opened in 1995 in an old building that was moved to its current location below Åre square. The menu focuses on modern tastes in the classical setting. The wine list holds plenty of classical regions such as Champagne, Burgundy and Bordeaux from France, but also Italy, Austria and Germany. From the new world, the Tottebo wine list offers wines from the USA, Australia and Argentina. Several exclusive wines are also offered by the glass.

Krus by Fäviken Magasinet

Phone: +46 72 588 74 40

Address: Årevägen 80, 837 52 Åre

Krus is the little relative of the famous Fäviken. Located in Åre, Krus serves breakfast, lunch and dinner in an informal setting. The wine list is short but diverse.

Granen

Phone: +46 647 515 60

Address: Tottvägen 127, 837 52 Åre

The hotel and restaurant Granen in Åre has received weary skiers with comfortable armchairs and an open fire since 1916. The restaurant serves well made "Husmanskost" with fine local produce, and in the summer months snacks and drinks. The wine list at Granen was fine before, but with the arrival of Swedish rapper and wine lover Petter as a partner, things have escalated. On the Granen wine list you will find fine wines from France, Italy and the USA, both by the bottle and by the glass. But on Petter's wine list, you will find large amounts of unique mature vintage Piemonte wines, particularl...

Werséns

Phone: +46 647 505 05

Address: Årevägen 95, 837 52 Åre

Werséns is a French and "Jämtland" brasserie at Åre square, open year-round. The menu is varied and you can also get pizza. The Werséns wine list has plenty of French classics like Champagne, Burgundy, Bordeaux and Alsace. But you can also find German, Austrian, American and Spanish wines on the wine list.

Vinbaren Åre

Address: Stationsvägen 11, 837 52 Åre

The wine bar in Åre has become a must see for wine lovers in the mountain resort. Small dishes are served in a cosy setting and the menu changes every week with the season and produce available. The wine list is the most extensive in Åre, with over 450 listings. French classic regions like Champagne, Burgundy and Bordeaux are listed along with the likes of Jura and Savoie. Italian power houses Barolo, Barbaresco and Tuscany are also very well covered. But the fans of Spain, Germany and USA also get plenty to choose from on Vinbaren Åre's wine list.

Fjällpuben

Phone: +46 647 502 40

Address: Årevägen 72B, Åre

Fjällpuben is found a few minutes walk from the square in Åre. The menu is local with influences from Jämtland and the rest of the north of Sweden. The regular wine list has wines by the bottle and by the glass from wine regions such as Bordeaux, Rioja and California. The Fjällpuben cellar list has some heavier stuff from Piedmont, Tuscany and Bordeaux.