The places in Sweden that celebrated Riesling Week 2021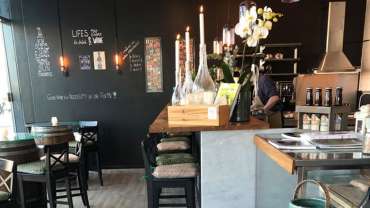 Riesling Week 2021 in Sweden was celebrated 7-20 June. Here are the venues in Sweden who joined the Riesling celebration! (Sponsored by Wines of Germany)
Phone: +46 920 20 07 00

Address: Storgatan 9, Luleå

CG in Luleå is a steakhouse restaurant but it does have seafood and vegetarian options on menu. We like to visit the wine cellar that offers plenty of options from classical wine regions in France and Italy, but also bottles from New World countries like Australia, Chile and the USA. If you like producers like DRC in Burgundy and Guigal, Clape and Gonon in the Rhone Valley, there are plenty of reasons to check out the CG wine list.

Phone: +46 920-22 21 55

Address: Småbåtsgatan 8, Luleå

Phone: +46 90 77 85 88

Address: Rådhusesplanaden 2E, Umeå

Harlequin is a small and cosy wine bar and restaurant at a pedestrian street right in the centre of Umeå. On the menu mostly small dishes, but also a few main courses that change regularly.

Phone: +46 660 101 90

Address: Fabriksgatan 12B, Örnsköldsvik

Linnéa & Peter opened the local bistro they felt like going to themselves. With a background from fine dining restaurants, their menu is inspired by the modern Nordic and European cuisines.

Phone: +46 70 312 35 56

Address: Olof Palmes plats 2, Uppsala

By the Glass List of the Year Sweden, presented by Le Verre de Vin by Sparkling Ideas 2020

The restaurant Dryck & Mat is one of Swedish wine writer Anders Melldén's favourites in Uppsala: "Dryck & Mat is for the people who want to enjoy exciting wines from small producers, often more or less natural. The beverage and the wine list comes first and influences the menu. The food is excellent and suits the many wines that are served by the glass."

Phone: +46 79 313 86 40

Address: Karlsgatan 4, Västerås

Bistro Vinoteket is a wine bar and bistro right in the middle of Västerås. Cosy, calm and relaxed, with straight forward, wine friendly food on the menu – from gourmet pizza via cured meat and cheese to classical bistro dishes like hamburger, fish'n chips and moules.

Phone: +46 73 430 43 41

Address: Birger Jarlsgatan 112, Stockholm

New Wine List of the Year Sweden, presented by Vintec 2020

Wine bar and restaurant E & G (short for Egon and Gösen) is located at Birger Jarlsgatan in Stockholm, a few minute's walk from the crowded neighbourhoods around Odengatan. The place is relaxed, like a living room away from home. The food is rustic and tasty and made for sharing – snacks, smaller dishes and stews. Small, intimate and cosy and with an interior where wine is, literally, all around you.

Phone: 08-534 897 01

Address: Rosendalsvägen 8, Stockholm

Phone: +46 8 15 01 15

Address: Kommendörsgatan 23, Stockholm

Jim & Jacob's girlfriend Copine has moved in at Kommendörsgatan in the Östermalm neighbourhood. It is an upscale dining room, kitchen bar and a separate dining room that seats up to 14. The menu focuses on France (as you would have guessed by the name) but the rest of the Mediterranean is also visited. It is a beautiful space and the experienced waiting staff makes you feel at home. The wine list is a few pages long, has a good selection by the glass and lists both classical and natural wines. France and Italy are up front but the USA and South Africa give extra choice for the curious wine l...

Phone: 08-511 044 60

Address: Grev Turegatan 6, Stockholm

Phone: +46 8 640 82 88

Address: Högbergsgatan 64, Stockholm

Café Cuvée is a French bistro at Södermalm and the menu is dedicated to snacks and smaller dishes that can be shared. And great cheese. The little space is busy with locals and cozy with, yes, a French bistro vibe. Experienced sommelier Tina Trigg is a partner in the restaurant and the wine list is mostly French with plenty of Burgundy at reasonable prices. Other destinations can also be found, like Austria and Germany. Do not miss the wine jukebox, a black board where three bottles are always served by the glass. When one is empty, the next guest can choose any bottle from the wine list to...

Phone: +46 8 611 94 10

Address: Runebergsgatan 1, Stockholm

Is it possible that German wines and food is becoming a thing in Stockholm? New addition Sekt serves a tasty modern south-German cuisine in a somewhat industrial modern bistro Berlin feeling in central Stockholm. No a la carte, two set menus. Drop in guests can order from a simpler bar menu.

Address: Fleminggatan 62B, Stockholm

Kungsholmens vinbar is a neighbourhood wine bar that has a small bar counter and several small tables. It has quickly become a neighbourhood joint that fills up with families and older patrons.

Phone: +46 8 33 04 00

Address: Norrtullsgatan 24, Stockholm

Vinverket, located in northern Vasastan in central Stockholm, is more of a wine bar than a restaurant, and it feels like coming home to friends. Going down the stairs a few steps, and you'll find a wine cooler reaching from floor to ceiling, and a solid kitchen table serving both as bar and workplace. Walk a few more meters and sit down by the small tables, perfect for a tête a tête. You will be served smaller dishes, influenced by the Mediterranean cuisine.

Phone: +46 8 20 10 08

Address: Birger Jarlsgatan 41, Stockholm

Austrian Wine List of the Year Sweden, presented by Austrian Wine 2020

Bar Central is the right place if you're tired of new Nordic minimalism. A hearty central European cuisine is served with either proper Pilsner or central European wines. Do not miss the classical schnitzel.

Phone: +46 8 673 74 00

Address: Tulegatan 7, Stockholm

German Wine List of the Year Sweden, presented by Wines of Germany 2019

Farang takes guests on a journey to Southeast Asian cuisines. The restaurant is located in an old factory hall and the rustic backdrop contrasts with the warm atmosphere. The restaurant is decidedly high end - great food. The bar in the front is cool and serves simpler dishes. For a fine dining lunch experience, this is one of my main choices in Stockholm.

Address: Erstagatan 21, Stockholm

International By the Glass List, presented by Coravin 2021

Experienced sommeliers Béatrice Becher and Jonas Sandberg opened the Stockholm wine bar they wanted to visit themselves in this eastern Södermalm part of town. The name plays on the French word for madness, Folie. As you'll see on the interior, it's loosely related to Territoriet in Oslo. Folii is one of the best wine bars in town and they have won our wine list competition in the By the glass-category several times. There are tasty small dishes on the menu and if you are eager for a more full meal - drop in to their restaurant next door: Voisine.

Phone: +46 8 30 32 32

Address: Odengatan 94, Stockholm

Minh Mat is a cosy Vietnamese restaurant with an outdoor terrace for sunny days. Unusually for Asian cuisines, it also has a wine focus.

Phone: +46 8 610 66 00

Address: Karlbergsvägen 14, Stockholm

Grus Grus is the wine bar opened by Tranan just next door on Odenplan in Stockholm's Vasastan neighbourhood. Snacks, small dishes and larger dishes to share are served in the cosy space. The Grus Grus wine list offers mostly wines from small-scale producers, often with an organic and natural focus. But be sure to check out the shelves in the wine fridge, where unlisted treasures from the Tranan "secret" wine cellar can be found at very attractive prices.

Phone: +46 8 522 256 52

Address: Odengatan 52, Stockholm

Best Short List of the Year Sweden 2020

A wine bar in the Vasastan area of Stockholm with a few classic dishes, warm atmosphere, and a very wide range of wines on the wine list. The crew is experienced and knows how to take care of guests.

Phone: +46 8 30 11 01

Address: Sankt Eriksplan 1,Stockholm

The Swedish Chef of the Year 2012, Klas Lindberg, opened his dream bistro in 2016 and the accolades did not wait. The food is Swedish and superb and the wine list is superb and from all over. Since August 2018, there is also a separate bar and dining room across the portal(!) from the restaurant.

Phone: +46 8 519 422 77

Address: Brahegatan 4, Stockholm

South African Wine List Of The Year Sweden, presented by Nederburg 2020

Tyge & Sessil is a busy wine café or wine bar near Stureplan in central Stockholm but with a more casual manner than many of the other local hangouts in this rather posh part of town. Delicious small dishes are delivered by the little kitchen. Tyge & Sessil is one of the foremost natural wine places in Stockholm.

Phone: +46 76 128 91 87

Address: Swedenborgsgatan 1, Stockholm

Original Wine List of the Year Sweden 2019

Dryck Vinbar (Beverage Wine bar in Swedish) greets guests with warm colours and well stocked wine fridges in the Södermalm part of Stockholm. The bar menu lists small dishes along with cheese and charcuterie.

Phone: +46 498 21 01 19

Address: Strandgatan 20, Visby

A cosy wine bar in Visby. The staff always open a lot of wines by the glass, and a lot of interesting natural wines.

Phone: +46 411 53 20 10

Address: Östra Vemmenhög, Skivarp

Original Wine List of the Year Sweden 2019

Sydkustens at Pillehill is both a farm hotel, brasserie and wine bar. The restaurant is open every night during summer (Thursday to Saturday in low season) and serves a locally sourced cuisine. The wine list is wide with wines from both old and new world countries, and in many wine styles. Wine tastings are often available, both scheduled and by request.

Phone: +46 40 29 44 44

Address: Anna Lindhs Plats 10, Malmö

Swedish Wine Center was not fortunate to open its doors during the 2020 pandemic. But the concept and the great location in central Malmö should ensure that it survives. If you are curious about the emerging Swedish wine scene, then this is the place to learn more. The experienced owners are also behind Skivarp's hotel in the Skåne countryside.

Phone: +46 40 97 18 18

Address: Hjulhamnsgatan 5, Malmö

Johan P is a classic fish restaurant and something of a institution in the Malmö restaurant scene. Seafood platters, lobsters, hollandaise sauce and classic environments with classic wine list.

Phone: +46 40 23 09 10

Address: 3, Frans Suellsgatan, Malmö

The classic venue Årstiderna i Kockska huset in Malmö serves traditional Swedish cuisine in a historic setting. The wine list is also classically inclined with older vintages of wine regions like Bordeaux and Tuscany.

Phone: +46 40 43 81 81

Address: Västergatan 6C, Malmö

L'Enoteca is Malmö's living room and wine bar combined. L'Enoteca offers wine tastings, winemaker dinners and simple wine friendly dishes from Monday to Saturday. Great outdoor terrace for sunny summer days, and a perfect location near the central station if you want a quick stop.

Phone: +46 42 506 04

Address: Helsingörskajen 10, Helsingörskajen

L'Enoteque is located right by the water in Helsingborg, and during summer they have a big patio where you can enjoy both wine and a beautiful sunset. Usually, there is around 200 wines by the glass to choose from; you just pick what you want from the bottles on the walls. The knowledgable staff can always guide you if you have trouble choosing.

Phone: +46 31-20 79 79

Address: Arkivgatan 7, Göteborg

Familjen (the family) is part of Björn Persson's little gastro group (Koka, Björns bar). This friendly bistro is located near the Avenue and in summer you will enjoy the large outdoor terrace. The wine list has some unique wines that the group imports.

Phone: 031-318 66 00

Address: Södra Vägen 8A, Göteborg

Phone: +46 31-20 86 90

Address: Berzeliigatan 18, Göteborg

Barrique is a city center wine bar and bistro, strategically located between the Avenue and the arenas Scandinavium and Ullevi. Value for money and accessible wines are the name of the game (they even announce their low markups on their site).

Phone: 031-61 90 60

Address: Drottningtorget 10, Göteborg

Phone: +46 31 18 18 58

Address: Södra Vägen 45, Göteborg

Project is the wine bar and restaurant that serves both set menus and a la carte and it has been rewarded with a star by Guide Michelin. The menu is internationally inspired.

Phone: +46 31 338 53 33

Address: Västra Hamngatan 24, Göteborg

Wolfgang vincafé has opened at Västra Hamngatan near Grönsakstorget in central Gothenburg. Here you can drop in for some classical dishes like Croque Monsieur or a shrimp sandwich. The ambiance is relaxed and friendly, although the locale is rather grand with large windows. In summer, the terrace is a good place to watch people stroll down the large sidewalk.

Phone: +46 31 16 08 88

Address: Geijersgatan 12, Göteborg

Tasty, exciting and uncomplicated. The kitchen at restaurant Natur in Gothenburg serves up beautiful dishes in modern, Nordic style. The wine list focuses on natural and organic producers, mainly from Europe.

Phone: +46 525-315 00

Address: Galärbacken 2, Fjällbacka

Stora Hotellet (the grand hotel) in Fjällbacka has been receiving guests since the 1800s. Most recently they are well taken care of by Swedish chef of the year-winner Thomas Sjögren and crew in three restaurants: Mamsell, Grano and Asado. Head Sommelier Douglas Fyhr and team has loaded the wine list with plenty of goodies, including back vintages of Bordeaux, USA and Italy. Cheers!