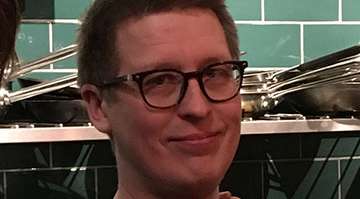 Working as a trained chef for some ten years, for Onni the step out from the kitchen to the floor was the key to finding the real world of wine. His background as a chef gave him the tools to quickly identify the joy and necessity of pairing wine and food. He thinks that your main task as a sommelier – apart from the day to day work with customers, wine importers, or harassing winemakers and other sommeliers – is to be a humble ambassador. He tries to travel a lot with wine, in both physical, academic and spiritual form; to understand wine fundamentally, you have to understand the world around it.
For Onni, building a solid wine list is so much more than just ticking off the "right" countries, regions, grapes, and famous names. He is a firm believer that a great wine list also has to represent the restaurant and its philosophy as much as the sommelier and the customers and their needs.
The here-and-now-approach is also very important for Onni, simply that the experience of wine is when you taste and drink it. A wine from the bottom shelf from your local grocery store might be a just as big experience as a cellar tasting at a world famous vigneron. If your mindset is "I am gonna enjoy this", then you likely will.
Onni sees his role as Star Wine List's Skåne ambassador as an excellent opportunity to dwell deeper into the region's wine scene and throw some well-deserved light upon the hard-working people in the business and to share their wine lists with the thirsty and curious wine community of the world.